Cyber-physical systems technology seeks to develop the processes, networking and technology needed for the seamless integration of cyber and physical systems, but the benefits of cyber-physical systems are not limited to fields related to technology and engineering.
So, what are the practical impacts and benefits of cyber-physical systems?
The science of CPS has the capability to impact technology in a wide variety of industries and organizations, and CPS allows us to imagine, create, develop, refine and perpetuate smart systems in fields that result in the betterment of industries, communities and individuals.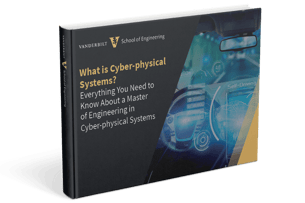 Regarding the benefits of cyber-physical systems technology, according to the Information Technology Laboratory: "The ability to design and build successful cyber-physical systems will address many national priorities in ways that traditional computer science cannot in areas as diverse as aerospace, automotive, energy, disaster response, health care, manufacturing and city management. Standards, protocols and test methods that support the discovery, interoperability and composition of components used to build these cyber physical systems will promote innovation, improve economic viability at the same time allowing systems to become more efficient and reduce resource-use."
In other words, the immeasurable benefits of cyber-physical systems is the acceleration of technological progress — progress that positively impacts countless fields, organizations and ultimately, the lives of others.
Understanding the impact and benefits of cyber-physical systems technology across diverse industries:
Here are just a few ways in which the benefits of CPS technology have impacted different industries:
Smart city management
TechTarget defines a smart city as "a municipality that uses information and communication technologies to increase operational efficiency, share information with the public and improve both the quality of government services and citizen welfare." A smart city ecosystem is complex, including systems related to intelligent traffic management, emergency response technologies and public safety solutions — the use of cyber-physical systems technology is paramount in planning, implementing and improving the optimization of smart cities.
Infrastructure
In 2021, the United States' infrastructure received a C- rating from the American Society of Civil Engineers' Report Card for America's Infrastructure.

What is the solution to our unstable infrastructure? Improving infrastructure starts with technology. Using advanced digital technologies like IoT sensors and video cameras, smart infrastructure empower smart cities to enhance the experience of citizens, businesses and city operators.

CPS engineers must master cutting-edge technologies in order to upgrade existing city infrastructure systems — many of which have not been updated in years. Bringing novel technologies to physical frameworks allows for more upgrades to critical infrastructure.
Automotive
IoT and CPS technology have made specific advancements in smart car technologies that can make vehicle transportation safer; "blind-spot monitoring, lane-departure warning and forward collision warning" are just three features that, if implemented in all cars in the United States, could reduce the number of crashes and in turn, save millions of dollars a year.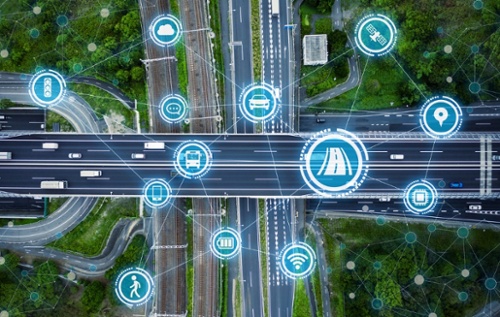 Agriculture
Sometimes referred to as smart agriculture or digital farming, CPS-related technology has resulted in advancements that help drive efficiencies on farms: from drones and satellites that relay images related to plant health to smart sensors on tractors or harvesters that provide information on soil type and condition.
Sustainability
Society continues to seek more solutions to today's overwhelming need for sustainable practices in business, health care and countless other industries, and CPS technology often makes the advancement of these solutions possible — solutions such as public electric transport, affordable energy storage, accessible solar power and clean recycling initiatives are a direct result of IoT and CPS technology.
Security
The emergence of smart technology has increased security measures in a variety of ways. "From mobile app development for real-time remote monitoring to fully fledged intelligent surveillance systems," CPS technology has empowered smart security to advance and improve.
Health care
CPS technology has made a multitude of medical advancements possible. From a smart monitoring system that tracks cancer patients' response to treatment to a smart continuous tool that sends data on glucose levels to the wearer's smartphone, the field of health care has greatly improved as a result of CPS science and technology.
Why Vanderbilt University is a strategic choice when seeking to develop skills in cyber-physical systems:
A global leader in cyber-physical systems research and education, Vanderbilt University is uniquely qualified to offer a well-recognized, cross-disciplinary master of engineering in cyber-physical systems.
In fact, Vanderbilt faculty significantly contributed to the formation of the CPS research agenda and are leaders in the CPS community.
Further, Vanderbilt is a national and international leader in CPS research, receiving substantial research funding in CPS and making a significant impact in both academic and industrial R&D. CPS-related research at Vanderbilt has been truly interdisciplinary, integrating efforts across multiple application domains (defense, transportation, energy and health care).
Vanderbilt also hosts the CPS Virtual Organization (CPS-VO) – the national hub for CPS research.
Transform your future — and the lives of others — with a master of engineering in cyber-physical systems:
"I grew significant knowledge of the vast domain space, acquired disciplined work ethic and project leadership skills. The master of engineering in cyber-physical systems provided me with respect in the field and significantly opened up future career opportunities." — Ron Picard, M.Eng. 2019
At Vanderbilt University School of Engineering, the master of engineering in cyber-physical systems is a 12-month, 30-hour interdisciplinary program that aims to put graduates on a fast career path in companies of all sizes and in a variety of industries that are critical to U.S. innovation and competitiveness.
If you are interested in joining the diverse and inclusive Vanderbilt engineering community, we encourage you to request more information or start your online application today.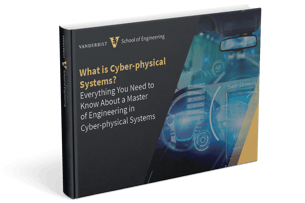 Interested in earning a master of engineering in cyber-physical systems? Download Vanderbilt University's cyber-physical systems guide to learn more about securing a career in the CPS field.