At Vanderbilt University School of Engineering, we are proud to be home to a diverse community of innovative experts who have the strategic knowledge to disrupt and improve many important industries.
We had the opportunity to speak with one professional — Ron Picard — who graduated from the School of Engineering with a master of engineering in cyber-physical systems in 2019 and who is now working as a computer engineer.
Allow us to showcase this driven, ambitious professional who is using his master of engineering in cyber-physical systems to transform CPS technology in order to further the benefits of cyber-physical systems in a variety of industries.
What is your name, graduation year and current role?
My name is Ron Picard, and I graduated with a master of engineering in cyber-physical systems from Vanderbilt University in 2019. I am currently working as a computer engineer.
How did Vanderbilt University's interdisciplinary approach to CPS affect your experience in the program?
This interdisciplinary approach to cyber-physical systems provided flexibility for students from diverse backgrounds and allowed us to collaborate and assimilate each other's skill sets.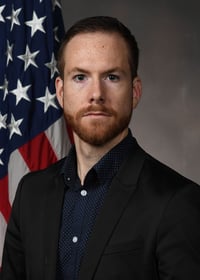 What was the most challenging element of the program?
A foundation in theoretical computer science is needed to better understand the domain. I had to pick this up on the side as I went along, but it was well worth it. Learning domain language and techniques that enable effective CPS was also the most exciting and eye-opening element of the program.
Did you engage in a research project while enrolled in the program? If so, tell us about that research project.
In my capstone project, I had the opportunity to train, test and analyze action schema neural networks to play war-gaming scenarios.
How did Vanderbilt's program encourage you to become a better leader in the field?
I grew significant knowledge of the vast domain space and acquired disciplined work ethic and project leadership skills. The master of engineering in cyber-physical systems provided me with respect in the field and significantly opened up future career opportunities.
Please tell us about one faculty member who inspired and positively influenced your experience.
It is difficult to say since many of the professors impacted my time at Vanderbilt in personal and knowledge-granting ways.
One use case of this is that Dr. Xenofon Koutsoukos provided a motivating case for a CPS career and led a phenomenal deep learning class. A second use case of this is that Dr. Taylor Johnson provided an in-depth knowledge of state-of-the-art formal verification techniques, tools and methods as well as a unique perspective on the industry.
There are countless more. I will always look back on my time at Vanderbilt with the utmost gratitude.
Join a community of current and future cyber-physical systems professionals at Vanderbilt University:
Vanderbilt University is one of the most respected research institutions in the world, and we are proud to offer a cutting-edge, rigorous master of engineering in cyber-physical systems.
A global leader in cyber-physical systems and IoT research and education, the School of Engineering is uniquely qualified to offer a well-recognized, cross-disciplinary graduate program in this area. In fact, Vanderbilt faculty significantly contributed to the formation of the CPS research agenda and are leaders in the CPS community.
As a future visionary in the field of cyber-physical systems, you owe it to yourself to enroll in an inclusive graduate engineering program that will allow you to engage with and learn from a community of forward-thinking experts who are leaders in the cyber-physical systems and IoT (Internet of Things) community and have a first-hand influence in the future direction of the field.
If you are ready to reward your ambition and join a community of visionary experts, we encourage you to connect with us soon: request more information or start your online application today.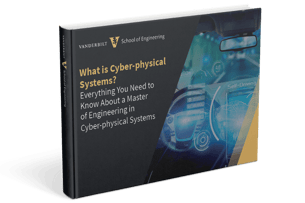 Interested in earning a master of engineering in cyber-physical systems? Download Vanderbilt University's cyber-physical systems guide to learn more about securing a career in the CPS field.