As we seek to regain normalcy and stability in 2021, it becomes increasingly clear that countless industries are experiencing the negative impacts of COVID-19 — health care, sustainability and smart infrastructure to name a few.

We are in critical need of talented and highly-qualified individuals who possess the knowledge and drive to overcome some of the most pressing concerns facing our world today.

In the field of engineering, there is a specialized group of engineers who work with cyber-physical systems (CPS) technology. There is a serious talent gap in this specific neighborhood of engineering, and for this reason, cyber-physical systems engineers are some of the most sought-after engineering professionals today.
Let's discuss the benefits of cyber-physical systems in light of the challenges we are facing because of COVID-19.
What is cyber-physical systems?
So, what is cyber-physical systems technology? Cyber-physical systems technology is the crossover between cyber components and physical devices in which the mechanism is controlled and monitored by computer-based algorithms.
Cyber-physical systems are engineered systems where functionalities and salient properties emerge from the networked interaction of computational and physical components. CPS technology seeks to develop the processes, networking and technology needed for the seamless integration of cyber and physics systems.
Additional Information: Cyber-physical systems and the Internet of Things (IoT) are platforms that build upon each other, but they aren't the same. Read our popular blog article, "What is the Difference Between CPS and IoT?" to learn more.
What are the benefits of cyber-physical systems today?
The coronavirus does not discriminate — in its wake, nearly all professional fields are facing challenges related to economic and social disruption.
Luckily, the benefits of cyber-physical systems are not limited to the fields of engineering and technology, rather, the science of CPS has the capability to impact technology in a wide variety of industries and organizations.
Here are three of the benefits of cyber-physical systems technology today.
IoT and CPS pave the way for life changing medical advancements.
It's no secret that the pandemic is causing strain to the entire health care field. Medical professionals are tasked with providing life-saving patient care amidst crowded hospitals and overworked staff — and the race to create and implement better ways of treating and preventing future deadly diseases has become a critical task for many.
CPS technology has made a multitude of medical advancements possible. From wearable biosensors that track vital signs to connected inhalers that help patients' track their medication use, from a smart monitoring system that tracks cancer patients' response to treatment to a smart continuous tool that sends data on glucose levels to the wearer's smartphone, the field of health care has greatly improved as a result of CPS science and technology.
CPS technology makes sustainable practices across industries possible.
In 2020, air and water pollution declined as a result of travel and social distancing restrictions, but the significant increase in hospital waste and disposal has negatively impacted the environment.

Society continues to seek more solutions to today's overwhelming need for sustainable practices in business, health care and countless other industries, and CPS technology often makes the advancement of these solutions possible — solutions such as public electric transport, affordable energy storage, accessible solar power and clean recycling initiatives are a direct result of IoT and CPS technology.
Cyber-physical systems engineers will improve our declining infrastructure systems.
In 2021, the United States' infrastructure received a C- rating from the American Society of Civil Engineers' Report Card for America's Infrastructure.

What is the solution to our unstable infrastructure? Improving infrastructure starts with technology. Using advanced digital technologies like IoT sensors and video cameras, smart infrastructure empower smart cities to enhance the experience of citizens, businesses and city operators.

CPS engineers must master cutting-edge technologies in order to upgrade existing city infrastructure systems — many of which have not been updated in years. Bringing novel technologies to physical frameworks allows for more upgrades to critical infrastructure.
Why choose the master of engineering in cyber-physical systems at Vanderbilt University School of Engineering?
At Vanderbilt University School of Engineering, we are uniquely qualified to offer a well-recognized, cross-disciplinary master of engineering in cyber-physical systems.

This is because Vanderbilt engineering faculty significantly contributed to the formation of the CPS research agenda and are leaders in the CPS community.

This means that as a graduate student enrolled in Vanderbilt University's cyber-physical systems program, you will learn with and from leaders in the CPS community — an incredibly valuable opportunity for future experts in the field.
Take the next step; connect with Vanderbilt University School of Engineering today
At Vanderbilt University, we are dedicated to approaching education from a holistic perspective — educating the whole person and building a diverse community of driven, innovative engineering professionals.
If you are ready to take the first step in securing a meaningful career in cyber-physical systems, we encourage you to connect with us soon: request more information or start your online application today.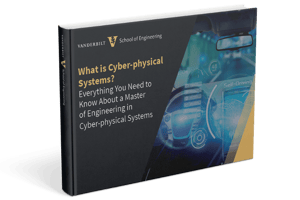 Interested in earning a master of engineering in cyber-physical systems? Download Vanderbilt University's cyber-physical systems guide to learn more.