Traditional labor market information shows a clear and growing demand for biomedical engineers in general, with jobs projected to grow by over 8 percent nationally over the next ten years.
There is a particularly strong demand for biomedical engineering expertise in industries related to surgical and interventional technologies, where upwards of 20 percent of all biomedical engineers are employed.
The data suggests that there is a substantial gap between demand and supply in the specialization of surgery/intervention.
>>Learn more about how this specialized sector of medical engineering and other types of engineering are transforming the world around us in our resource: Different Types of Engineering for the Innovative Professional
By achieving a master of engineering in surgery and intervention, you can expect to secure one of a variety of meaningful, lifelong careers in the field of interventional surgery. Let's explore just nine of the career opportunities available to engineers who specialize in surgery and intervention while obtaining a master's degree in engineering.
1. Robotics Engineer
Robotics engineering is multifaceted and complex, and engineers working in robotics are responsible for analyzing, designing, programming and testing robotic systems that can work in place or in tandem with humans.
A robotics engineer designs robotics software — in turn, developing vital robotics systems that can save lives in the medical field.
2. Medical Device Engineer
As the name suggests, medical device engineers are a type of medical engineer that is responsible for envisioning, designing and producing novel tools and instruments that can be used in diverse surgical processes. These devices are used in clinical patient care at hospitals or other medical facilities.
In short, medical device engineers are "dedicated to researching and designing medical equipment and machinery" — all with the goal of developing novel solutions to pressing challenges related to patient care.
Learn more about how AI is enabling more accurate and cost-effective procedural medicine technologies in our blog, What is AI in Surgery?
3. Imaging Engineer
The duties of an imaging engineer include the installation, inspection and maintenance of medical imaging equipment.
Depending on the specific environment in which this type of engineer works, an imaging engineer "may install, repair and perform the calibration of MRI or CT equipment, radiology equipment, arthroscopic surgical imaging devices or other medical, clinical and diagnostic imaging equipment."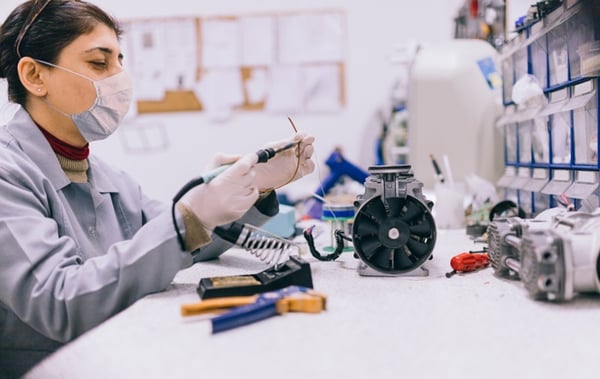 4. Healthcare Data Scientist
Traditional data scientists are tasked with gathering data and pulling actionable insights from that data.
A healthcare data scientist finds "efficient, cost-effective ways to harness vast amounts of existing healthcare data — to maximize its potential to transform healthcare with faster, more accurate diagnosis and more effective, lower-risk treatment."
5. Medical Instrumentation Engineer
A medical instrumentation engineer is responsible for designing, developing and maintaining equipment, which is used to monitor and control medical systems during procedural surgery. These engineers are tasked with making sure that these medical/surgical systems run safely and efficiently.
6. Project Engineer
A project engineer is responsible for the technical and engineering processes needed to complete a project. In a healthcare setting, these particular engineers ensure "the design, consistency and functionality of a project throughout its execution."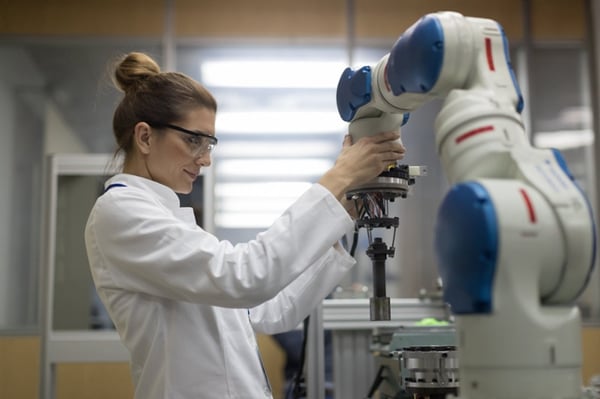 7. Simulation Engineer
A simulation engineer is tasked with using "technological tools to figure out how something would behave, or a process would work without actually testing the real thing." Simulation engineers ensure that both software and hardware systems are compliant and reach quality standards and evaluate their "usability in real life."
8. Biomedical Engineer
Biomedical engineers greatly contribute to the advancement of medical-related technologies. In studying medicine and biology, these engineers develop technologies such as "medical diagnostic machines, medical instruments, artificial organs, joint replacement parts and prosthetic devices" all with the goal of improving the health and quality of life for others.
Interested in exploring further the differences in medical engineering specialties? Check out our blog, Engineering in Medicine: Biomedical Engineering vs. Surgery and Intervention Engineering
9. Materials Engineer
Materials engineers "develop, process, and test materials used to create a range of products, from computer chips and aircraft wings to golf clubs and biomedical devices." They also study the properties and structures of various substances in order to create new materials that meet a variety of "mechanical, electrical, and chemical requirements."
Here are a few more types of engineering careers in surgery and intervention:



Surgical Engineer

Interventional Engineer

Medical Robotic Engineer

Image Processing Engineer

Engineer Scientist




Medical Device Entrepreneur

Drug Delivery Engineer

Imaging Scientist

Translational Engineer

Staff Engineer
Vanderbilt University's master of engineering in surgery and intervention:
Vanderbilt University's master of engineering in surgery and intervention is designed to create a new cadre of engineers capable of creating, developing, clinically evaluating and translating methods, devices, algorithms and systems designed with a clear focus to facilitate surgical/interventional processes and their outcomes.
The master of engineering in surgery and intervention concentrates on the collaborative efforts of engineers and surgical experts to envision and implement technology and tools that transform the delivery of surgical/interventional care and ultimately, enhance and improve patients' well-being and quality of life.
Visit our master of engineering in surgery and intervention resource page to discover more blogs, student spotlights and videos about the novel program.
If you are ready to transform procedural medicine, become a part of the future of healthcare technology and fill a significant talent gap in the industry, then we encourage you to request more information or start your online application today.
Download Vanderbilt University's engineering degree in surgery and intervention guide to learn more about obtaining a NEW graduate engineering degree.