Surgical and interventional processes, devices and systems are complex.
The conception and development of novel solutions require a close interaction between several engineering disciplines and clinicians. This necessitates environments in which engineering teams and practitioners can consistently interact, collaborate and exchange ideas.
The field needs engineering experts who can bring technology
from the bench to the bedside.
Vanderbilt University's master of engineering in surgery and intervention concentrates on the collaborative efforts of engineers and surgical experts to envision and implement technology and tools that transform the delivery of surgical/interventional care and ultimately, improve patients' quality of life.
Visit our resource page to uncover more about our cutting-edge master of engineering in surgery and intervention program.
Let's explore just a few of the reasons you should choose Vanderbilt's innovative engineering degree in surgery and intervention:
1. There's a significant talent gap in the field of interventional surgery, and Vanderbilt University is working to decrease it.
Traditional labor market information shows a clear and growing demand for biomedical engineers in general, with jobs projected to grow by over 8 percent nationally over the next ten years. But there is strong demand for biomedical engineering expertise in industries related to surgical and interventional technologies, where upwards of 20 percent of all biomedical engineers are employed.
The data suggests that there is a substantial gap between demand and supply in the specialization of surgery/intervention. Vanderbilt University recognizes this talent gap and in response, is launching a novel master of engineering in surgery and intervention.
Pro Tip: Learn more about transforming procedural medicine with our blog post, "Engineers Who Specialize in Surgery and Intervention Will Transform Procedural Medicine — Here's How."
2. Diversity of thought, experience and background is paramount to Vanderbilt School of Engineering.
The Vanderbilt engineering community is committed to perpetuating a diverse and inclusive culture that showcases respect, compassion and intellectual freedom.
We recognize that diversity is a driver for innovative solutions that benefit our society through engineering, and we demonstrate the value of diversity and inclusion through our educational practice, our workplace culture, our hiring processes and our engagement with the wider community.
Pro Tip: Thinking about obtaining a master's degree in engineering at Vanderbilt School of Engineering? Take a few minutes to explore "9 Reasons to Join Vanderbilt University School of Engineering."
What is Women of VISE?
Vanderbilt University's Women of VISE (WoV) is a group of women who gather monthly to foster community, discuss translational research and promote the success of women in the STEM fields.
WoV provides an opportunity for women to support one another and collectively access the unique challenges we face in our fields as women. WoV will offer monthly gatherings and speakers with an emphasis on building community while connecting with others in science, medicine and engineering.
WoV will also cultivate professional collaborations, networking and informal mentorship with successful women in the field. Through social gatherings, workshops on mental health and events on navigating work environments, we will promote wellness among members.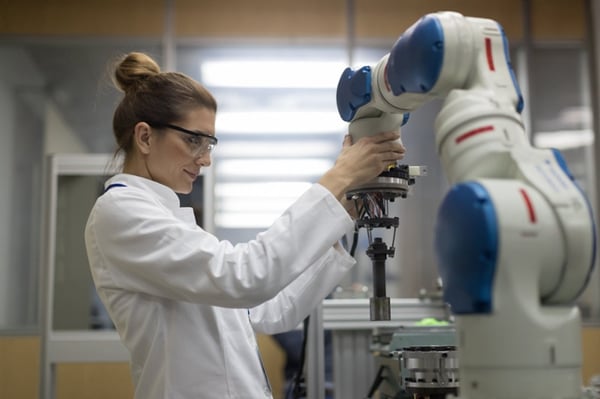 3. Vanderbilt School of Engineering is uniquely qualified to prepare the next generation of surgery and intervention engineers.
The current members of VISE and those in emeritus status have been performing trans-institutional work for almost four decades now within the domains of surgery, intervention and engineering. This relationship is unique to Vanderbilt and has been maintained by the passion of the members devoted to this domain.
Vanderbilt University's strong history of and commitment to interdisciplinary work and the close proximity of its medical and engineering schools makes it the ideal institution for advancing the state of the art in this field.
What else sets Vanderbilt University's master of engineering in surgery and intervention apart:
| | |
| --- | --- |
| Decades of investment in engineering, surgery and intervention research with world-class faculty | An intensive and supportive immersion experience with our clinical professionals (~20 clinical specialties) |
| An unparalleled integration of engineering (VUSE/VISE) and clinical (VUMC) resources | Extensive experience in commercial realizations among cadre |
4. Vanderbilt University is one of the only institutions to offer a unique degree program based in procedural medicine.
In conjunction with the Vanderbilt Institute for Surgery and Engineering (VISE), the School of Engineering provides a transformative infrastructure that facilitates this interdisciplinary work and creates an environment in which traditional boundaries are eliminated.
In fact, Vanderbilt University is one of the only universities to offer such a ground-breaking program — a program that will prepare engineers to disrupt and improve traditional patient care in the healthcare space.
Pro Tip: Discover more about engineering in medicine and what makes Vanderbilt's M.Eng. in Surgery and Intervention unique in our blog, "Engineering in Medicine: Biomedical Engineering vs. Surgery and Intervention Engineering"
5. Engineering students can choose from one of two program tracks, depending on level of expertise.
Students who pursue this degree will likely hold a bachelor's degree in a STEM education field such as mechanical engineering, industrial engineering, biomedical engineering, computer engineering, electrical engineering, computer science, physics, medical physics or mathematics.
With regards to program structure, the master of engineering in surgery and intervention has two tracks: the innovator track and the inventor track. Each track is 30 credit hours and consists of core course work and electives — learn more about these two tracks here.
Getting an engineering degree in surgery and intervention from Vanderbilt University:
By achieving a master of engineering in surgery and intervention from Vanderbilt University, you will develop the sought-after skills needed to bridge the gap between clinical teams and technical teams — in turn, making yourself an indispensable asset to any team.
Are you ready to transform procedural medicine and fill a significant talent gap in the industry? If so, we encourage you to request more information or start your online application today.

Download Vanderbilt University's engineering degree in surgery and intervention guide to learn more about obtaining a NEW graduate engineering degree.