Vanderbilt University's master of engineering in surgery and intervention was designed by experts with on-the-ground experience in both surgery and intervention.
We had the chance to interview Michael I. Miga, Ph.D., co-founder of the Vanderbilt Institute for Surgery and Engineering and program director of the NEW master of engineering in surgery and intervention — here's what he had to say about the impact of procedural medicine and procedural intervention today.
Tell us a little bit about yourself. What is your professional background and current title?
Michael I. Miga, Ph.D. — I joined the faculty in the Department of Biomedical Engineering at Vanderbilt University in 2001, and I'm currently the Harvie Branscomb Professor at Vanderbilt.
I'm a Professor of Biomedical Engineering, Radiology and Radiological Sciences, Neurological Surgery and Otolaryngology — Head and Neck Surgery. I am the Director of the Biomedical Modeling Laboratory, and co-founder of the Vanderbilt Institute for Surgery and Engineering (VISE).
I have been PI on several NIH grants concerned with image-guided brain, liver, kidney and breast surgery. I'm also PI and Director of a novel NIH T32 training program entitled, "Training Program for Innovative Engineering Research in Surgery and Intervention" that is focused on the creation of translational technologies for treatment and discovery in surgery and intervention.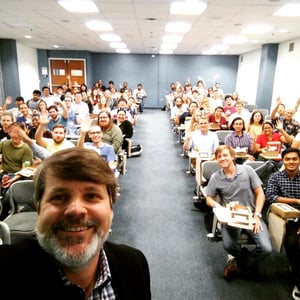 In 2014, I was inducted into the American Institute for Medical and Biological Engineering College of Fellows, which represents the top two percent of medical and biological engineers. I served as a charter member of two study sections at the National Institutes of Health (NIH) — the Biomedical Imaging Technology (BMIT-B) Study Section and the Bioengineering, Technology and Surgical Sciences (BTSS) Study Section. I was also a co-founder of Pathfinder Technologies Inc. (2004-2014) that developed the first FDA cleared image guided liver surgery system.
Where did you achieve your undergraduate and graduate degree(s)? And in what field?
I received my B.S. and M.S. from the University of Rhode Island in mechanical engineering and applied mechanics. I received my Ph.D. from Dartmouth College specializing in biomedical engineering.
What are your particular research areas?
My research interests are in:
Image-guided surgery and intervention
Computational modeling for therapeutic applications
Soft-tissue mechanics
Biotransport
Inverse problems in therapeutics and imaging
Why was it important to you that Vanderbilt University offer a master of engineering in surgery and intervention that focuses on procedural medicine?
Over the past several decades, impact studies have pointed at the inability to clinically realize discoveries, the changing nature of healthcare teams, the practical stressors associated with the workforce, and the need for institutional-wide integrated support as major barriers to translating discovery to treatment.
While undergraduate degrees in engineering are a great foundation, within the domains of surgery and intervention, the need for specialized advanced training environments that combine clinical immersion and cutting-edge technology development has never been more pressing.
To include its inception, Vanderbilt has been the vanguard of this area of study. The master of engineering in surgery and intervention will uniquely position graduates to accelerate the translation of surgical and interventional therapies.
Tell us about the intersection between healthcare and engineering? How are they related/how do they build upon one another?
As we enter a new era of healthcare, engineering research expertise will be needed to extract cost-effective relevant human systems information from distinctly finite data while balancing competing goals between workflow and engineering design, and between practical application and required accuracy.
Additionally, the unconstrained and costly deployment of technology into our operating and interventional suites to achieve this will no longer be possible in a cost-conscious healthcare system. Furthermore, existing technologies promoted by industries that are ineffectively modified to suit new-label use will be discouraged if better patient outcomes are not demonstrated. Technologies will need to be data-enabling, efficient and cost-effective. Treatment platforms will be assembled from modular and reconfigurable technologies for a customizable approach to care.
This new dynamic in healthcare will be quite transformative for industries where in order to compete, precision smart technologies and devices will be the norm where "precision" is defined as patient-, presentation-, and procedure-specific. Personnel demands will fundamentally change with a goal of seeking highly-qualified and "enabling" engineers such as the ones our program will produce.
Why is training in engineering with a specific focus on surgery and intervention/procedural medicine in demand in the market today?
Precision medicine involves the customization of therapy to a patient's presentation. To a great degree, medicine is still largely a population-based paradigm. In recent years, we have begun to see advances in some therapy regimens that take into account patient-specific variables, e.g. chemotherapy drugs based on tumor types or surgery guided by patient-specific imaging data.
As we consider such specificity in procedural medicine, engineering technologies that enable patient-specific delivery of interventions and surgeries will be critical to improving the trajectory of care for patients.
Finally, when we consider the sheer wealth of information available both diagnostically and intraoperatively, exceptionally trained engineers that can create and actualize data-driving procedural technologies while also optimizing for cost and clinical workflow will be an essential part of the future workforce in healthcare.
How does Vanderbilt University's new program help bridge the gap between technical teams and clinical teams?
The master of engineering in surgery and intervention that has been designed represents a novel engineering training environment focused on establishing immersive experiences with the clinical cadre to shape engineering research such that the barriers in translating therapeutically relevant discoveries to patient care can be overcome.
The instructional framework is designed to engage trainees in clinically-driven creation, development, implementation, evaluation and translation of methods, devices, algorithms, systems and biological platforms with a clear focus at one area of medicine, namely, to facilitate surgical and interventional processes and their outcomes.
The central tenet of the program is that highly-trained engineers intimately familiar with human disease and treatment and trained in the inception of novel technology-based platforms are required for resolving the bottlenecks in clinical translation and for facilitating breakthrough advances in patient care.
To achieve, a multi-pronged approach has been developed:
1) Trainees are matched with an engineering mentor laboratory in their field of study and are exposed to cutting edge research and design.
2) A clinically immersive didactic course with 10 medical specialties is required where trainees learn the current state of the delivery of care as well as the remaining provocative questions that if solved could fundamentally move the needle in clinical care.
3) Students have access to more immersive experiences within the operating room and interventional suite depending on the laboratory and project — both human and animal.
This combination of highly-focused technical skill development and clinical immersion will lead to a new transformational cadre of highly-trained engineers helping to shape care as well as realizing novel surgical and interventional technologies for healthcare industries in the next century and beyond.
What kind of professional development or experiential learning opportunities can students enrolled in this procedural medicine program expect to receive?
Every student will be required to enroll in Engineering Leadership and Program Management. Students will learn to apply core principles of leadership and program management as engineering professionals. The course will cover strategic planning, people management, staffing, compensation, business process improvement theory, business interruption, leadership styles, emotional intelligence, negotiation and ethical business practices.
There are other possible professional development courses available if trainees wish to pursue research careers or entrepreneurial pathways.
What kind of skills will students graduate with once they have completed the program?
In addition to management/leadership skills and clinical immersion experiences, students will gain technical skills in some of the most technically advanced areas of study with a broad didactic elective technical core.
This dynamic and evolving didactic elective core is categorized into eight key training areas:
1) Therapy Guidance, Delivery, and Localization
2) Modeling and Simulation for Surgery/Intervention
3) Image Processing, Visualization, and Analysis for Surgery/Intervention
4) Interventional/Surgical Therapeutics
5) Interventional Imaging
6) Medical Devices and Robotics
7) Interventional and Surgical Data Science
8) Surgery/Intervention Processes
Typically trainees select electives that span across 1-3 of these areas depending on interest and design project direction.
What is your biggest piece of advice for prospective students of this program?
To get the most of out of the program, there are two attributes that a prospective student needs:
1) an enthusiastic creativity combined with good core undergraduate technical skills that see the ESI domain as a target-rich design environment and
2) a deep desire to engage in enhanced study of the ESI domain with a goal of creating technologies to help patients.
Interested in transforming procedural medicine? Connect with us at Vanderbilt University School of Engineering!
Vanderbilt University's NEW master of engineering in surgery and intervention — coming fall 2021 — is designed to create a new cadre of engineers capable of creating, developing, clinically evaluating and translating methods, devices, algorithms and systems designed with a clear focus to facilitate surgical/interventional processes and their outcomes.
Vanderbilt University's strong history of and commitment to interdisciplinary work and the close proximity of its Medical and Engineering Schools makes it the ideal institution for advancing the state of the art in this field. In fact, Vanderbilt University is one of the only universities to offer such a ground-breaking program.
If you are ready to transform your career and nurture your spirit of ambition with a master of engineering in surgery and intervention, then we encourage you to request more information or start your online application today.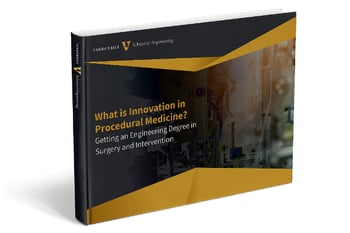 Download Vanderbilt University's engineering degree in surgery and intervention guide to learn more about obtaining a NEW graduate engineering degree focused on procedural medicine.