At Vanderbilt University School of Engineering, we offer a highly respected construction management graduate degree in civil engineering — a master's degree in civil engineering for future construction managers who wish to innovate ideas and solve the broad range of challenges confronting the construction industry.
Construction management blends the fundamentals of civil engineering, the art of project management and the application of skills within the built environment.
In other words, exceptional project management skills are critical to the success of construction management processes, solutions and initiatives.
If you're interested in learning how to become a construction manager and exploring some of the challenges and innovations happening in the field today, we encourage you to register for the 13th Annual Project Management Symposium on Thursday, March 10, 2022.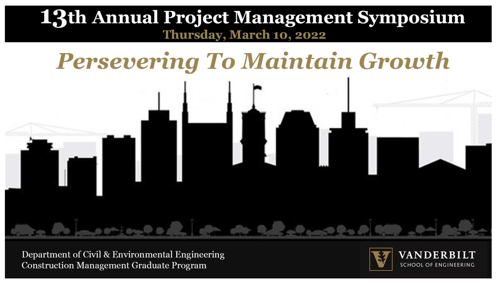 By attending this event, you will have the opportunity to explore and discuss topics like:
Sustainability in the construction industry
Infrastructure challenges
State of Nashville development
Creative partnerships with Vanderbilt
And much more!
Learn more about how to become a construction manager at Vanderbilt School of Engineering:
At Vanderbilt University, we are dedicated to approaching education from a holistic perspective — educating the whole person and building a diverse community of driven, innovative engineering professionals.
You have the opportunity to advance your skill set and transform your career by pursuing a master of engineering in civil engineering with a concentration in construction management, and we hope you choose to achieve academic excellence with us at Vanderbilt University's School of Engineering.
If you are ready to reward your ambition and join a community of visionary experts, we encourage you to connect with us soon.
Watch Vanderbilt University's construction management video and take the first step in securing a meaningful career in construction management.