One of the best ways to make an impact on the engineering field and develop quality solutions that will benefit future generations is to equip yourself with a master's degree in engineering.
Engineers that hold master's degrees are uniquely poised to not only be leaders in their fields but to also formulate the most impactful innovations.
When discerning which engineering master's degree to earn, it's important to consider a few factors, including your interests, the current market demand and your career goals. Below are five examples of the most popular and versatile engineering master's degrees:
1. Master's in Biomedical Engineering
A master's in biomedical engineering program combines the principles of engineering with medical and biological sciences to develop technologies and devices that can improve healthcare. The interdisciplinary nature of the subject combines the principles of mechanical engineering, electrical engineering, computer science, biology, physics and chemistry.
A master's in engineering with a focus on medical devices typically instructs students on how to design, develop and evaluate systems surgery and diagnostics. In fact, Vanderbilt University School of Engineering (VUSE) offers a novel master's program in engineering in surgery and intervention (ESI) that trains students to translate clinical findings into technological solutions for medical interventions. Students in the ESI M.Eng. program are trained in the following core skill sets:
Interventional imaging, therapeutics, and delivery,
Modeling, simulation, image analysis, and data science,
Robotics and medical devices.
2. Master's in Environmental Engineering
Master's in environmental engineering programs apply engineering principles to address various environmental challenges. Environmental engineers design and develop technologies to improve air, water, and soil quality, protect public health and promote sustainable development.
The curriculum of a master's in environmental engineering program typically includes coursework in areas such as water treatment, air pollution control, hazardous waste management, sustainability and environmental policy. Students may also take courses in core engineering subjects such as fluid mechanics, thermodynamics and systems analysis.
VUSE's M.S. or M.Eng. environmental engineering program offers opportunities for students to partake in study and cutting-edge research on topics including energy, water, smart cities and the environment, with an emphasis on long-term sustainability and resilience.
3. Master's in Civil Engineering
Master's programs in civil engineering focus on the design, construction and maintenance of the built environment. Civil engineering encompasses a broad range of disciplines, including structural engineering, geotechnical engineering, transportation engineering, water resources engineering and construction engineering and management.
Coursework includes advanced engineering topics, such as mechanics of materials, structural analysis and design, transportation systems, environmental engineering and construction management. Students may also have the opportunity to take courses in emerging areas such as smart infrastructure, sustainable design and resilient engineering.
The M.Eng. in civil engineering with a concentration in construction management at VUSE strives to educate engineers on the latest development in construction technologies and software, and management principles to understand and solve the broad range of challenges confronting the construction industry and the built environment.
4. Master's in Mechanical Engineering
A master's in mechanical engineering focuses on advanced topics related to mechanical engineering. Students are educated in the advanced principles of mechanical engineering, advanced engineering tools and analytical skills.
A typical curriculum covers topics such as advanced materials science, thermodynamics, fluid mechanics, mechanical design, control systems, robotics and manufacturing. Students may also have the opportunity to specialize in areas such as aerospace engineering, automotive engineering, biomechanics or renewable energy.
The mechanical engineering graduate programs at VUSE offer students an interdisciplinary curriculum with the opportunity to focus on the following areas:
Surgical Robots
Rehabilitation engineering and socially assistive robotics
Mechatronics, control and design
Energy
Fluids
Nanotechnology
Advanced manufacturing
5. Master's in Engineering Management
A master's in engineering management degree focuses on preparing students for leadership and management roles in engineering-related fields. These programs are designed for engineers who want to develop their managerial skills and knowledge to complement their technical expertise. Coursework typically covers topics such as engineering project management, financial management, organizational behavior, supply chain management and operations management
Students may have the opportunity to specialize in a specific area of engineering management, such as technology management, innovation management, or project management. Some programs may also require students to complete a capstone project, where they apply their learning to a real-world engineering management problem.
VUSE offers an online M.Eng. in engineering management program that explores how business areas such as project management, product development and organizational behavior affect engineering firms' output, preparing you to pursue leadership roles across a range of industries.
Find Your Engineering Focus at
Vanderbilt University School of Engineering
These are just a few examples of the many options available for master's engineering degrees. You can discover more about the field of advanced engineering in our resource: Different Types of Engineering for the Innovative Professional.
Vanderbilt University School of Engineering offers an array of engineering master's degrees for every type of innovator. Whether you hope to impact climate change or develop new solutions in healthcare, you can find your focus at Vanderbilt University.
Request more information to learn more about our diverse graduate program offerings. You can explore all our programs here or start your application today!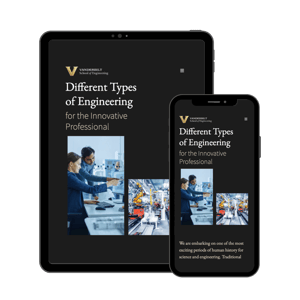 View the Different Types of Engineering Resource